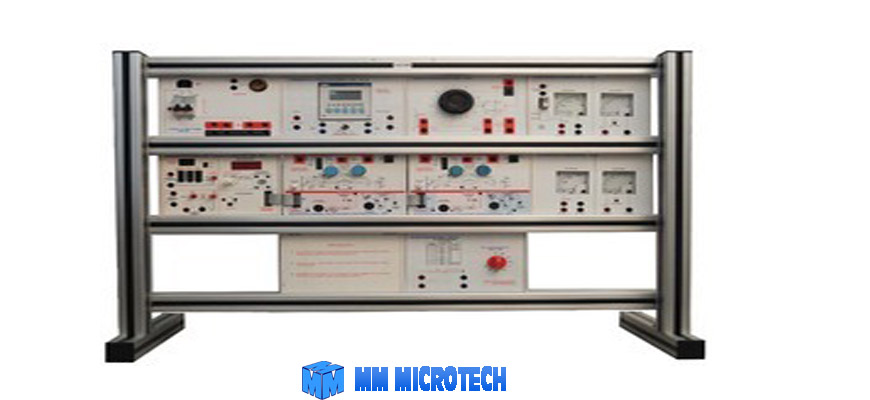 We are a well-known Electrical Machine Trainer Manufacturer and Supplier. We offer quality assured Electrical Machine Trainer that is made with top quality components. Our Electrical Machine Trainer is manufactured with premium grade components with the latest technology. We have become a preferred name in market for availing Electrical Machine Trainer.
Features:
Facilitates easy and safe wiring by students due to use of 4mm sturdy shrouded banana patch cords and shrouded socket arrangements.
All machines are mounted on finely painted sturdy base frame with easy machine interchangeability Use of gear coupling facilitates screwless coupling.
With due emphasis on student safety machines operate upto 300W power levels and upto 1500 RPM, without compromising didactic use Able to draw all graphs.
Trunnion mounted DC Integrated machine is used as Dynamometer for loading other machines (Motors / generators both); unlike magnetic powder brake or eddy current brake which can load only coupled Motors and not generators, with facility to measure shaft power using electronic torque / speed measurement
Specifications:Aluminum profile sturdy (4x3) flat panel (table top) system, carrying various high voltage components housed in plastic enclosures (panel) to minimise shock possibility.
1 Phase Motor, Alternator & Sync. Motor Panel (EMT 16A) [14 Shrouded Banana]
Integrated AC 1 phase multifunction measurement panel (EMT20F) [8 Shrouded Banana]
DC voltmeter and DC ammeterpanel (EMT6A/B) [14 Shrouded Banana]
Instrumentation Power supply cum Multichannel DPM panel (EMT8) [10 Shrouded Banana]
SCR Actuator (variable DC) cum sensor signal conditioning panel (EMT9x 2 Nos)[4 Shrouded Banana]
Variable AC/DC PowerSupply Panel (EMT23) [8 Shrouded Banana]